Industry Spotlight: Seattle, WA
Known for its coffee, lush forests and the iconic Space Needle, Seattle, Washington is also a booming location for job seekers as one of the centers of tech employment growth in the nation.
The Pacific Northwest region is becoming a hotbed for employment activity. Known for its coffee, lush forests and the iconic Space Needle, Seattle, Washington is also a booming location for job seekers as one of the premier centers of tech employment growth in the nation.
"Seattle has a job market that rivals any city in the nation."
Seattle – The Northwest's reigning champion
According to the Bureau of Labor Statistics, the unemployment rate in the Emerald City is sitting at 5 percent, and has remained under 5.5 percent since January of this year. Meanwhile, the city's job growth prospects have stayed robust with a rate at 3 percent, according to Forbes.
This dwindling unemployment combined with companies hungry to hire has placed a strain on a somewhat thin labor market. "The local market in Seattle seems to be inundated with the same candidates represented by the same agencies and recruiters," says Rikki Denniston, Division Director of Beacon Hill's Financial Division in Seattle. "Employers are more open than ever before to working with staffing agencies to fulfill hiring needs because they've seen firsthand the difficulty of finding highly-qualified candidates in this environment."
Such an advantageous market for job seekers makes Seattle the perfect city to consider when looking for new opportunities. Add this to the fact that the Forbes report also listed Seattle as sixth in the nation for businesses and careers and 37th for job growth, and you start to see the myriad possibilities. Washington's biggest metropolitan also has favorable living conditions with median household income at $73,561 and median home prices at $370,000. Here's a look at some of the industries growing rapidly in the area:

Trade, transportation and utilities
Seattle is quickly becoming a more valuable job market for job seekers of all ages, particularly in the trade, transportation and utilities segment. According to the BLS, this employment category has remained strong with 376,600 jobs and a year-over-year growth near 5 percent.
The Jet City is a boom town for trade because it has one of the largest ports for container capacity in the country. As a major gateway to the Asian markets and home to Boeing, Seattle is uniquely capable of being a West Coast transportation hub.

Professional and business services
This job sector has always been a boon for Seattle as the home of Starbucks, Microsoft and Amazon. According to the BLS, the professional and business services category is Seattle's second largest employment sector, and has grown 3 percent this year to accommodate 280,800 jobs.
Education and health services
This Northwest city has long been established as a bastion of education – it was ranked 13th in the country by Forbes in terms of education, and 43.4% of its residents have bachelor's degrees. And with 26 colleges and universities of varying sizes and characteristics within 20 miles of the city, there are numerous opportunities here for employment. The healthcare sector offers similarly rich opportunities. According to a 2011 study by the Downtown Seattle Association, 1 in 8 jobs in Seattle are related to healthcare. Furthermore, the report stated that almost half of the healthcare market in the Seattle metro area was concentrated downtown, allowing for a plethora of opportunities in a very small geographical area. This has created a number of opportunities in the education and health services sector, as it has grown by 4 percent this year to 259,000 jobs, according to BLS data.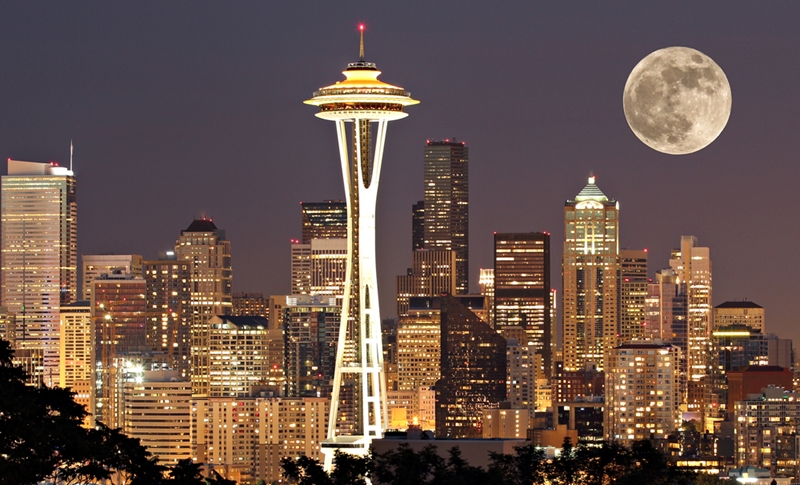 Industry breakdowns
Seattle is as promising of a job market as any in the country with its educated workforce and influx of transportation and tech jobs. In fact, the BLS showed that only the manufacturing sector, which dropped by 2.4 percent, lost jobs, while the mining and logging experienced no growth but does not represent a large portion of the workforce.
Currently though, three other employment categories showed rapid growth rates by more than four percent:
The construction sector grew by 7.9 percent this year to provide 118,500 jobs.
Information has also expanded rapidly by 7.7 percent in 2016 to accommodate 108,700 jobs.
Financial activities followed suit with a 4.8 percent growth rate to 101,400 jobs.
Employment in the Rain City is constantly evolving and expanding, which should make it one of the first locations people should look to for new opportunities. Considering the data from the BLS and Forbes, it is not only a great place to live, but has a variety of employment industries that make it very attractive for job seekers.

This is brought to you by the Marketing Team at Beacon Hill Staffing Group.