Minneapolis owns healthy economy
Minneapolis and Saint Paul are the two most populated cities in Minnesota, so it makes sense they are the driving force behind the state's keen economic growth.
Minneapolis and Saint Paul are the two most populated cities in Minnesota, so it makes sense they are the driving force behind the state's keen economic growth. The state known nationally for blistering cold winters and the Mall of America has a lot more to it than meets the eye - you just need to get out there and explore.
Professional business and health and educational services compose about a third of the area's nearly 2 million strong job market, so job seekers looking for employment in those industries may see their luck change with a move to a new state.
Twin Cities Share the Wealth
Minneapolis is home to about 400,000 people while its twin counterpart, St. Paul, houses around 300,000, according to the latest U.S. Census. About one eighth of the entire population of Minnesota resides in these two cities, and it's easy to see why. A number of job opportunities are becoming increasingly available, as well as great quality of life to those who move to the area.
"I think one of the really unique qualities about our job market is the diversity of industries around the Twin Cities," notes Jason Berglund, Division Director of Beacon Hill Technologies in Minneapolis. "Medical Device, Retail, Manufacturing, Health Care, Agriculture, and Financial Services are all very prominent, while the population is extremely educated and relatively small compared to the number of organizations. The result is a competitive job market that puts a premium on one's ability to network and market themselves."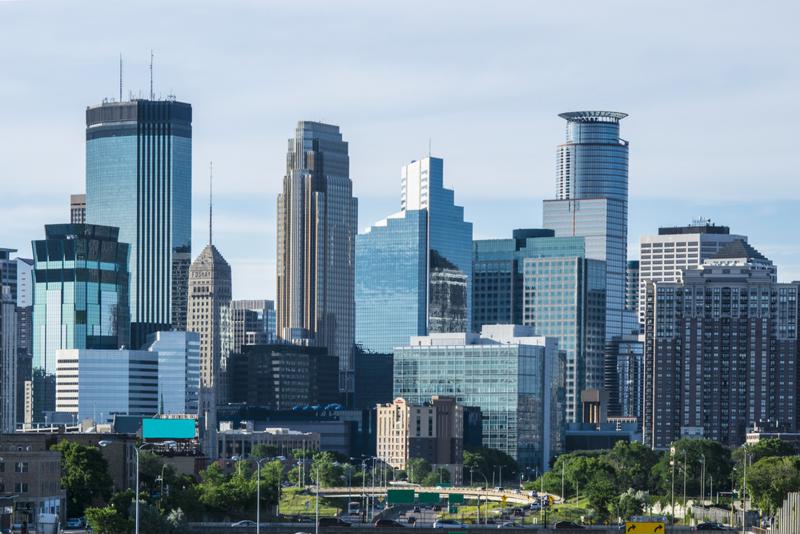 Outside of work, residents have a number of activities to partake in on their free time between the two cities. There are four major sports teams - the National Basketball Association's Minnesota Timberwolves, the National Football League's Minnesota Vikings, Major League Baseball's Minnesota Twins and the National Hockey League's Minnesota Wild. Once the Vikings finish their new stadium located in downtown Minneapolis, all sports teams will be comfortably accessible within city limits. Bars, clubs and restaurants litter downtown Minneapolis and those who like to take it a little slower on the weekend could visit the Ordway Center for Performing Arts, Fitzgerald Theater or the Science Museum of Minnesota. Whether you live in one city or the other, there's always something going on in the Twin Cities.
The Cities Tag-Team the Unemployment Rate
The Twin City area boasts a ludicrously low unemployment rate, which sat at 3.1 percent at the end of December 2015, according to the Bureau of Labor Statistics. That's nearly a whole 2 percentage points lower than the national average.
Nearly 2 million people are employed in the area, the BLS reported. Even with such a low unemployment rate, job creation continues to rise:
Educational and health services employ 320,000 and finished 2015 with a job creation rate of 3.8 percent.
Around 300,000 people find work in the professional and business service, which steadily creates new jobs at about a rate of 1 percent.
Trade, transportation and utilities remains a hugely important sector, giving around 350,000 people jobs and finishing 2015 with a 1 percent new hire rate.
The leisure and hospitality sector covered employment for 172,000 in December, and kept its steady job creation rate of 3.1 percent through the end of the year.
Nearly 66,000 in the mining and logging industry have found work in the Twin City area, equating to a 3 percent growth rate.
However, job growth is not confined to just the industry giants. "In particular, the legal market is growing with both law firms and corporations filling positions," says Cindy Eidnes, Division Director of Beacon Hill Legal in Minneapolis. "While litigation roles are not in as much of a growth mode, good candidates for transactional positions including corporate contracts and merger and acquisition work, as well as compliance roles, are in high demand."
Job seekers have the unique ability in the Twin City area to go to a place that has growing industries in nearly every sector of the market, creating a mutually beneficial relationship between employers and employees.